Nice Choice Isnt She Lovely

Breeder Sini Rantanen
Owner Sabine Egenolf-Jackson
HD-B1 PRA/LL free at age seven
Deutscher Veteranenchampion KTR
Deutscher Champion VDH
Deutscher Champion Club
Deutscher Jugendchampion
Winner Baden - Württemberg 2007
Best in Show Puschendorf 2013
Best in Show Veteran Großkarlbach 2013
Best in Show II Großkarlbach 2013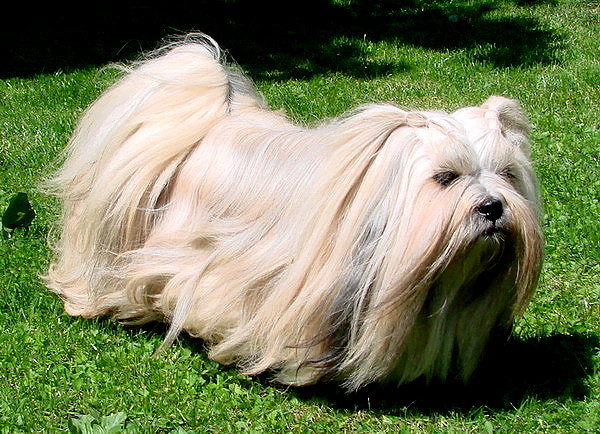 Pedigree
Barjea Mai Ling Panda

Barjea Mischief Falcore (ROM)

Barjea Marthas´ Romeo (ROM)

Bayside Spectacular Sunrise (ROM)

Barjea Mai Ling Summer Wind (ROM)

Barjea Marthas´ Romeo (ROM)

Barjea Mischief´s Nikita (ROM)

Soleydan High Hopes

Chic Choix Marlon Brando

Chic Choix Rhett Butler

Marlo Somethin Jesica

Chic Choix Parti Gal Sal

Chic Choix Ashley Wilkes

Brittborgen´s Etana
My parents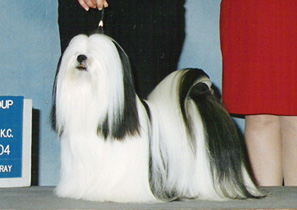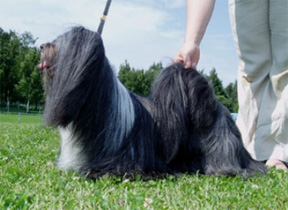 Sire: BARJEA MAI LING PANDA Dam: SOLEYDAN HIGH HOPES
Nice Choice Isn't She Lovely

Xsini came to us as a 9 week old puppy. Since then 2 years have passed by.
She has now finished her titles German Champion Club
and German Champion VDH & German Veteranchampion KTR!
It was, as they say " a piece of cake " for her.
When she is in the Showring she moves with so much grace and style
it's unbelievable !
To discribe her wonderful character is difficult, because it would't
fit on this page. I'd have to write a book on Xsini.
Just to say this . . she's the best companion, my best friend, the greatest
familymember one can ever dream of . . she's my soulmate!
Xsini is my dream come true and she stole my heart forever!
She is the mother of many beautiful puppies, that all have the most wonderful character, just like Xsini!
Thank you so much Sini for leting me have my Soulmate! She's the love of my life!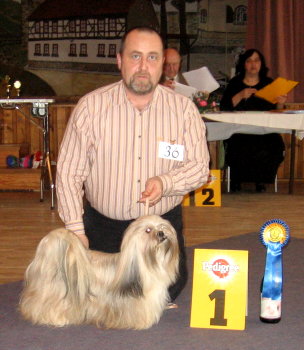 Xsini took another Best of Breed in Erfurt! Way to go girl!
She has been specialed four times now, every time with BOB!
Great job after one year staying on the couch! :-)