Le Dakini Lhassa De - ni Enaya Barjea

Breeder Sabine Egenolf - Jackson
Owner Sabine Egenolf-Jackson & Maik Egenolf
HD-A1 PRA/LL free at age six
Deutscher Champion KTR
Deutscher Champion VDH
Deutscher Jugendchampion VDH
Deutscher Jugendchampion Club
Rheinland - Pfalz - Jugendsieger 2007
Jugendsiegerin Baden - Württemberg 2007
Jugendsiegerin Stuttgart 2007
Winner / Siegerin Ortenau 2008
Berlin - Siegerin 2011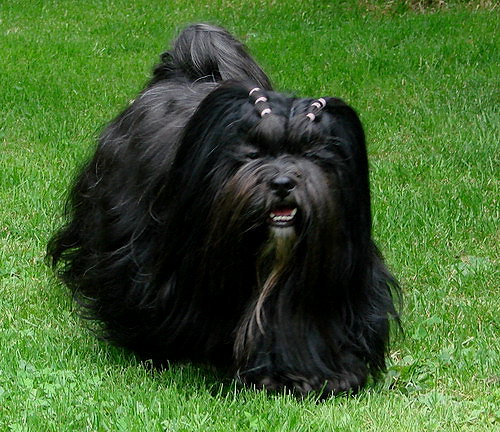 Pedigree
Barjea ' s BMW

Kimikmischief Put It Together

Kimik ' s Frankly My Dear

Mischief ' s Barjea Fantasia

Barjea ' s Show & Tell

Barjea

Mischief Falcore

Barjea Mischief ' s Nikita (ROM)

Nice Choice Isnt She Lovely

Barjea Mai Ling Panda

Barjea Mischief Falcore

Barjea Mai Ling Summer Wind

Soleydan High Hopesl

Chic Choix Marlon Brando

Chic Choix Parti Gal Sal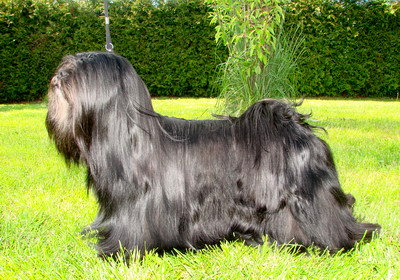 Barjea's BMW & Nice Choice Isn´t She Lovely

Enaya, our first homebred Champion.
Daughter of Xsini and our USA Import male Beamer.
She is the best one can dream of in the showring and at home!
Lovely, very tempermental movement, beautiful head & outline and
the best coattextur I have ever seen ( besides her sire ) on a black Lhasa!
Unfortunately she only had three puppies in two litters.
I decided to stop breeding with her.